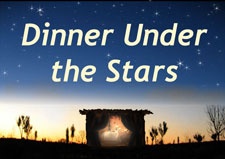 Join us for a delicious holiday dinner and an exquisite Sukkot experience, held in our big, friendly Sukkah, under the Starry Texas Sky!
Dinner Under the Stars will be held on the first night of Sukkot, Wednesday, October 4, 8:00 pm.
Reservations are required:
Suggested donation $26 adult, $10 child. Be a sponsor for $72 or higher. RSVP online .