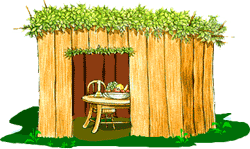 Join us for the annual L'Chaim, Cake & Shake!
Stop by to shake the Lulav & Etrog and enjoy some light cake & drink refreshments in the Sukkah!
OPEN SUKKAH
Monday, Oct. 5th
4:00 to 7:00 pm
At Rabbi Yitzchok & Malky's Sukkah in League City (if you need the address simply reply to this email)
No need to reserve, just stop by during the above Open Sukkah hours!
Outdoors, spacious and safe!