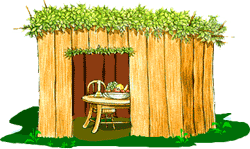 Don't have your own Lulav and Etrog set, or your own Sukkah? Don't fret. Mi Sukkah, es su Sukkah!
You are invited to come on over during this holiday of Sukkot, to shake the Lulav & Etrog, and sit down with the rabbi at his home for some cake & l'chaim in the Sukkah!
L'chaim, Cake & Shake (just pop in):
Tuesday, Oct 15,

between

5:00 and 6:30 pm
Hope to see you! Happy Sukkot!