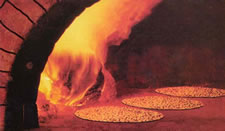 The Shmurah Matzah has arrived and will be available for pickup from April 1 and on.
Please contact the rabbi directly to coordinate a time for your Matzah pickup.
It is not too late to order your box of Shmurah Matzah. To order - use our event order form and select "Shmurah Matzah Order" from the event list. Use the number of "Adults" to select how many pounds.
Zohar calls matzah "Bread of Faith" and "Bread of Healing." Our great mystics explain that this is especially true with Shmurah Matzah.