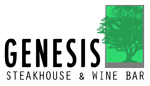 Aficionados of kosher and fine dining would be pleased to learn that a new kosher steakhouse has opened in Houston.
Genesis Steakhouse and Wine Bar is billed as a more upscale restaurant, offering a gourmet menu, extensive wine selection, and fine dining experience geared not only to the kosher consumer but to the general population as well.
For more info see their website: www.genesissteakhouse.com.
Genesis Steakhouse is located in Bellaire at: 5427 Bissonnet, Suite 400 Houston, Texas 77081, and is under the kosher supervision of Houston Kashrus Association and Mehadrin Kashrus of Texas.