BOOK TICKETS ONLINE
(Scroll down for ticket prices & options)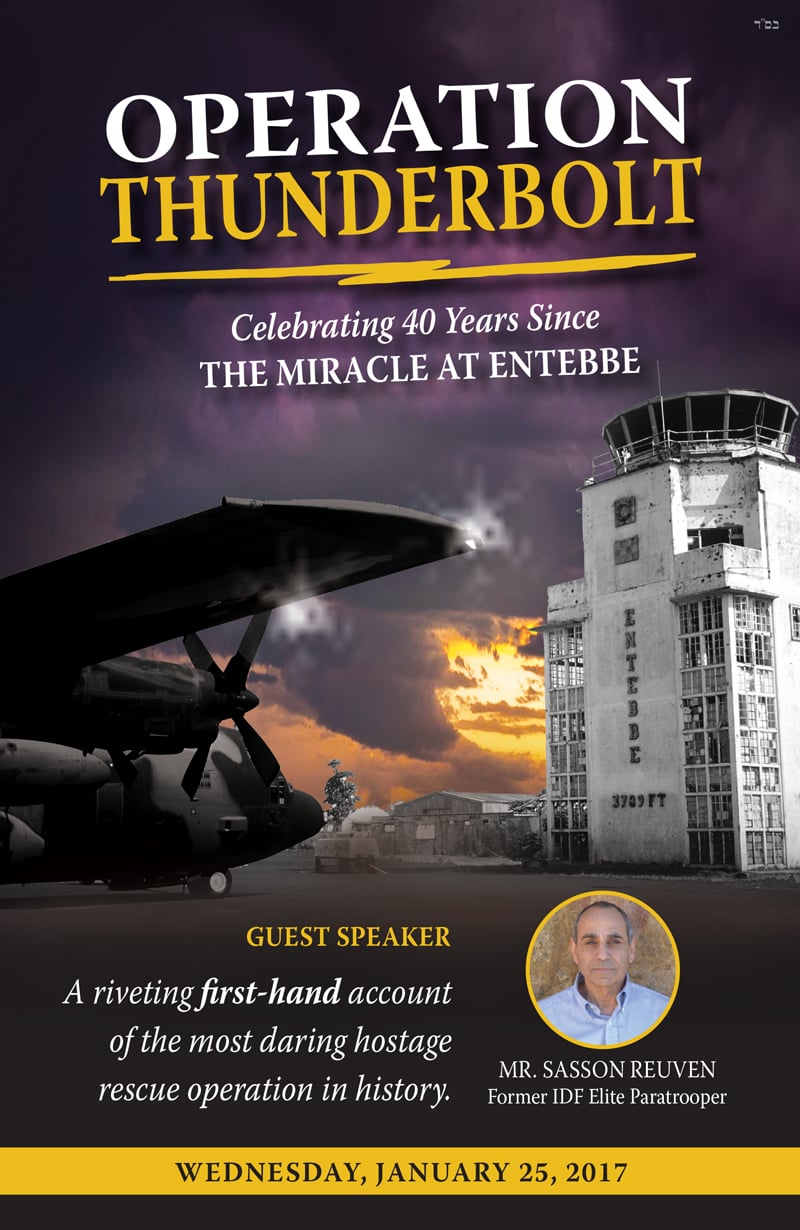 At Chabad Bay Area
Center for Jewish Life & Learning
2047 W. Main St, Suite B7
League City, TX 77573
ABOUT THE RAID ON ENTEBBE
On July 4, 1976, the Israel Defense Force launched the boldest hostage-rescue operation in modern history, flying thousands of miles over enemy territory to rescue Jewish hostages held by terrorists in Entebbe, Uganda.
Join us on Wednesday, January 25 for an exclusive talk featuring Mr. Sasson Reuven, an Israeli Elite Paratrooper, who will be sharing his FIRST-HAND, behind the scenes account of "Operation Thunderbolt."
This will be a rare opportunity to come up close to one of the more amazing stories within the history of our people. Don't miss it!

 LECTURE TICKETS:
$10 per person (by Jan 24)  / $15 at door
Light refreshments will be served
* * * 
(Optional)
LECTURE & SPONSOR'S RECEPTION
Pre-Talk Desserts & Salads reception for Sponsors at 6:15 pm
$72 Sponsor: 2 tickets
$180 Sponsor: Up to 4 tickets*
$250 Sponsor: Up to 6 tickets*
Underwriter $540*
*Sponsors of $180 or more  will receive a Hardcover copy of the book Operation Thunderbolt (by acclaimed military historian Saul David) - inscribed by our guest speaker.
These high quality programs are only made possible by your partnership. Thank you for your support!  
GO TO RESERVATION FORM
(On the form, enter qty of guests & price based on the above list)
MORE INFO:
[email protected] or 281-724-1554
Join the  FACEBOOK EVENT and share it with your friends online!
OPERATION THUNDERBOLT
Celebrating 40 Years Since
The Miracle at Entebbe
 Featuring guest speaker
Former IDF Elite Paratrooper
Mr. Sasson Reuven 
In a riveting, first-hand, behind-the-scenes account of the most audacious hostage rescue operation in history.
Wednesday, January 25, 2017
7:30 pm  
ABOUT OPERATION THUNDERBOLT: 
 In July of 1976, the IDF launched the greatest counter-terrorist hostage-rescue operation in modern history, flying thousands of miles over enemy territory to rescue Jewish hostages being held by terrorists in Entebbe, Uganda.  Several books and movies have been written about this legendary rescue: "90 Minutes at Entebbe", "Operation Thunderbolt", "Victory at Entebbe" and "Raid on Entebbe."