Annual tradition - not to be missed!
Clear Lake Chanukah Celebration!
Join us on the final night of the holiday!
All EIGHT Candles!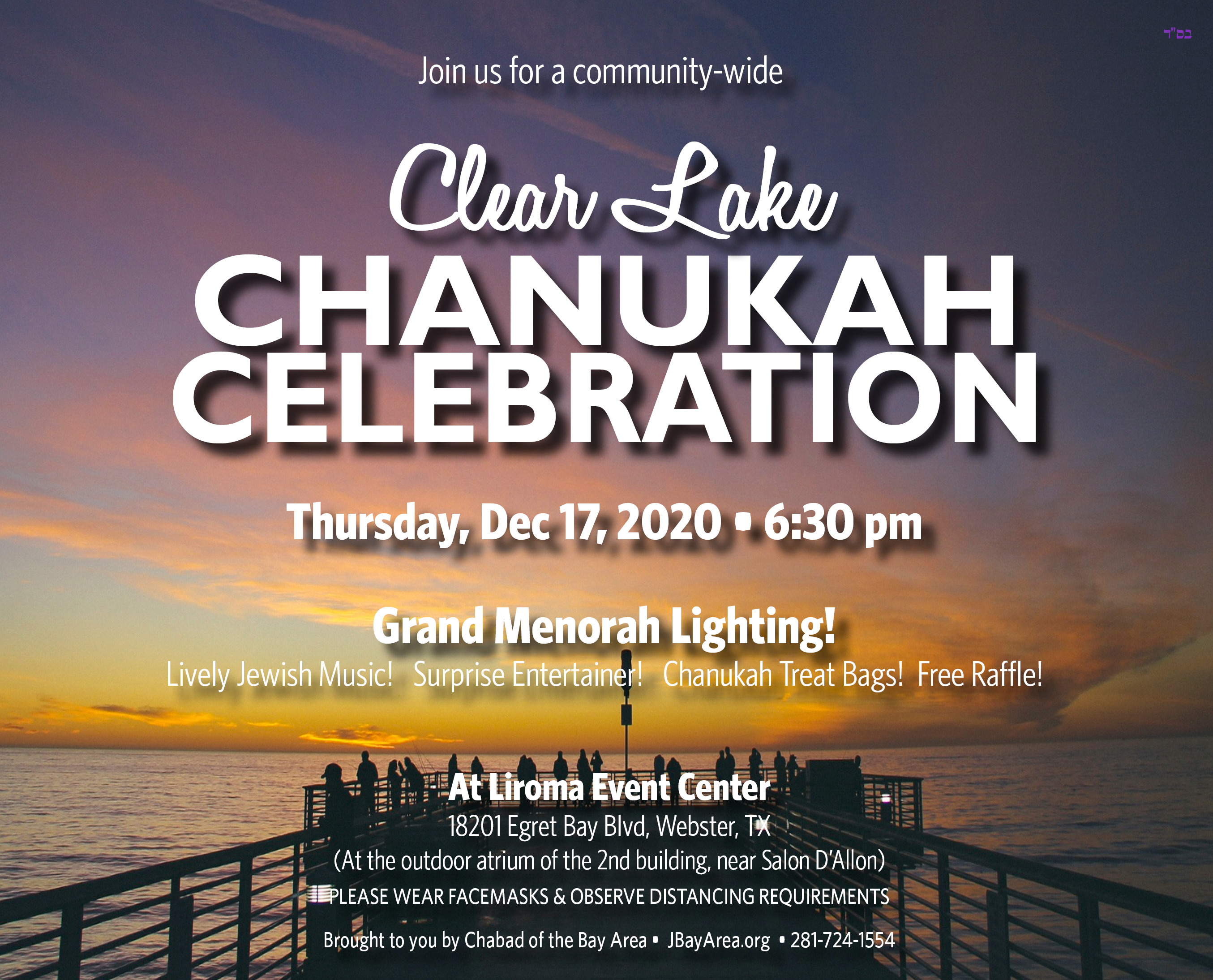 FACEBOOK - RSVP & SHARE THE INVITE!
THURSDAY, Dec 17, 2020
6:30 pm
Airy outdoor location for 2020!
At Liroma Event Center
18201 Egret Bay Blvd, Webster, TX 77058
(In the outdoor atrium of the 2nd building, near Salon D'Allon)
Grand Menorah Lighting!
Lively Jewish Music! Surprise Entertainer! Delicious Chanukah Treats! Free Raffle and More!
* * *  
REMEMBER TO WEAR FACEMASKS & OBSERVE DISTANCING REQUIREMENTS
* * *  
FREE OF CHARGE! 
Brought to you by Chabad of the Bay Area
Contributions/sponsorships welcome:
jbayarea.org/rsvp or call us at 281-724-1554
* * *   
PREVIOUS CHANUKAH CELEBRATIONS THIS YEAR: 
6th Night of Chanukah
PEARLAND MENORAH LIGHTING
Tuesday, Dec. 15 at 6:30 pm
At Pearland Town Center Mall - Outdoor Pavilion 
11200 Broadway St, Pearland, TX 
* * * 
4th Night of Chanukah
CHANUKAH ON THE STRAND:
Saengerfest Park | 2302 Strand St, Galveston, TX
Sunday, Dec. 13, 2020 • 6 pm